Building Better Garages Since 1947
Whether you are replacing an existing detached garage or adding a new detached garage to your property, Steele and Loeber's proven construction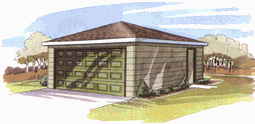 process ensures that you'll get the garage you want, on-time, on-budget and without hassles.
Since we specialize in garage construction your garage is built on-site, from the ground-up following our exclusive and proven process.
The Steele and Loeber Garage Construction Process
Free consultation with experienced representative
Garage Design
Permitting
Demolition/Site Prep
Garage Construction (Framing, Roofing and Siding)
Door and Operator Installation
Electric Installation
Clean up
Deliver your new garage with best in class warranty!
How can we deliver Chicagoland's best built custom garages so affordably? It all comes down to our proven garage construction process that we have been perfecting for more than 65 years. Oh, and it also helps that we have our own lumberyard which gives us access to higher quality lumber than our competitors who buy from the "big box" retail stores. Higher quality lumber at a lower price – a winning combination!